Wilpattu is Sri Lanka's largest national park with an area of 130,000 hectare. It is also the oldest national park which has been reopened after several years of closure due to the armed conflict in the country. A few decades ago it was Wilpattu that was known ahead of Yala for its Leopard population. A unique feature of Wilpattu national park is that the entire park is dotted with large sand rimmed natural lakes known as "Villus". The Villus collects rain water and tends to attract wildlife especially during the times of drought.
The main draw in Wilpattu is the leopard and sloth bear. It is also one of the better parks to see barking deer. Wilpattu is bounded to the north and south by 2 main rivers, the Modara Gamaru towards the north of the park and the Kala Oya to the south of the park
Wilpattu is not only famous for its wildlife but also for its archaeological and historical importance. About 500 years before the birth of Christ it is believed that Prince Vijaya from India and his followers landed in a place called Thambapanni in the North West corner of Wilpattu and formed the Sinhalese kingdom. There are still many archaeological ruins and stories to be told about this and many other fascinating historical events that took place within the borders of what we now call Wilpattu.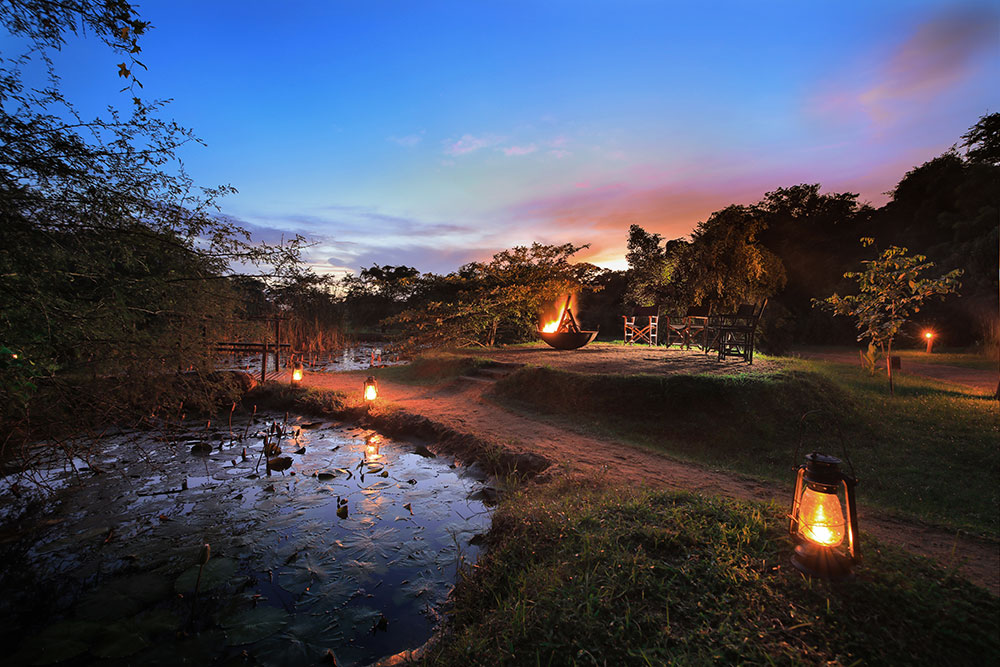 In Wilpattu watch out for
Leopard (Panthera pardus kotiya)
Asian Elephant (Elephas maximus maximus)
Sloth Bear (Melursus ursinus)
Spotted Deer (Axis axis)
Barking Deer (Muntiacus muntjak)
Mouse-deer (Tragulus Nigricans)
Wild Boars (Sus scrofa)
Water Buffalos (Bubalus bubalis)
Mugger Crocodiles (Crocodylus palustris)
Ceylon Junglefowl (Gallus lafayetii)
Brown-capped Babbler(Pellorneum fuscocapillus)
Black-naped Monarch (Hypothymis azurea)
White-rumped Shama (Copsychus malabaricus)
Ruddy Mongoose (Herpestes smithii)
Indian Grey Mongoose (Herpestes edwardsii)
Purple-faced Langur (Trachypithecus vetulus)
Sri Lankan Grey Horbill (Ocyceros gingalensis)
Oriental Dwarf Kingfisher (Ceyx erithaca)
Greater Thick-knee (Esacus recurvirostris)
Pin-tail Snipe (Gallinago stenura)
Indian Rock Python (Python molurus)
The tent has both air conditioning and fans.
Queen size beds (arranged as double or twin)
Bedside tables
Dressing tables
Luggage racks
Towel racks
Fresh linen
Bathrobes, towels and bath amenities
Water bottles and mosquito repellent
Fans
Charging points for phones and cameras
Flush-able toilet, and sink within bathroom area of tent
Your own personal outdoor shower with hot and cold water (at rear of tent)
Additional beds and baby cots may be placed in the tent
Total tent footprint of 300 sqft including verandah
Ideal for families and those that require a little bit of extra luxury. These tents come equipped with
Similar facilities as the classic mobile tents. In addition
The tent has both air conditioning and fans.
Flush-able toilet, dual sinks, and shower (with hot and cold water) are all within the bathroom area of the tent.
Total tent footprint of 700 sqft including verandah (the much larger square footage makes it ideal for families or groups that are sharing)
Dining & Experiences
With an open bar and multiple locations for dining, the staff at Leopard Trails Wilpattu will go to great lengths to ensure that meal times are an experience.